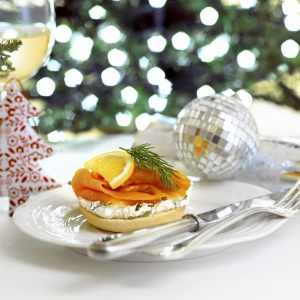 Yes, breakfasts and not breakfast. We're not advocating you eat more than one breakfast, of course. We just want to provide you with Christmas smoked salmon breakfast recipe options (three in fact) to make sure that the annual Christmas breakfast a) isn't a damp squib, b) suitably impresses and c) sets the tone for the day ahead.
These three options range from the much-loved smoked salmon with scrambled eggs to something a little more adventurous.
In order to buy smoked salmon for Christmas, or if you're looking to send smoked salmon as a gift, then you need to make sure you placed your online order by 20 December.
Option 1: Smoked salmon with scrambled eggs
This familiar smoked salmon recipe from Jamie Oliver ticks a number of boxes. It's easy to make, it looks and tastes fantastic and, let's face it, readies the stomach for the festive tipple, which, for many, also starts at breakfast!
We've based all these recipes on four people, however halving, doubling or even tripling shouldn't prove too tricky to work out.
Ingredients
60g butter (for cooking – use extra for spreading if required)
12 large free range eggs
4 slices of sourdough bread
8 slices of Coln Valley Smoked Salmon (we would advise buying our 454g pack of Classic Smoked salmon
2 lemons (each quartered)
Freshly cracked black pepper
Sea salt
Method
Place the bread in a toaster and then whisk the eggs in a bowl. Melt the butter in a small saucepan. When melted add the eggs and stir continuously with a wooden spoon or spatula, making sure that no part of the egg gets stuck in the same place for too long. Take off the heat when the egg is still smooth and runny. Place the toast on plates and share the egg out evenly over the toast before laying two slices of Coln Valley smoked salmon over the eggs. Add lots of black pepper and one lemon wedge before serving.
Option 2: Eggs benedict with Coln Valley Smoked Salmon & chives
If you've accepted that Christmas Day is going to be one, long indulgence, then why not start as you mean to go on. Although it's slightly more involved than option 1, it will certainly impress your guests.
Ingredients
4 eggs
8 slices of Coln Valley Smoked Salmon (we would advise buying our 454g pack of Classic Smoked Salmon)
2 muffins (halved)
Knob of butter for spreading (if required)
Chives, chopped
2 tablespoons of white wine vinegar
For the sauce
2 teaspoons of lemon juice
2 teaspoons of white wine vinegar
3 egg yolks
100g butter
Method
Start with the sauce. Add the lemon juice and vinegar in a small bowl before adding the yolks. Whisk until frothy. Then place the bowl over a pan of gently boiling water and whisk until the mixture begins to thicken up. As it does, add the butter until fully combined and then take off the heat.
Poach the eggs by boiling water in a pan, add the vinegar, stir they water until you have a whirlpool then add the eggs one by one. Cook for a few minutes before removing with a slotted spoon.
Toast the muffin halves before adding two slices of smoked salmon on each. Add a poached egg on top, pour a spoonful of sauce over the top of that and then garnish with the chopped chives.
Option 3: Avocado on toast with smoked salmon
This is a nice, healthy option to offset what's to come.
The inclusion of rye bread also makes it really filling; it may even tide you over until Christmas lunch!
Ingredients
2 avocados
4 tablespoons of natural yoghurt
1 lemon
4 slices of rye bread
Cayenne pepper
150g Coln Valley Smoked Salmon (our 200g pack of Classic Smoked Salmon will do nicely – and leave you with some leftover)
½ a cucumber – ribboned
For the dressing:
1 x red chilli, seeded and sliced
2 x tablespoon of finely chopped mint
1 x lemon (zested and juiced)
2 x tomatoes (finely diced)
2 x teaspoons of white wine vinegar
Method
Mix all dressing ingredients together.
Halve the avocadoes, remove the stones and scoop the flesh into a bowl before adding the lemon juice and yoghurt. Add salt and pepper and then mash up.
Divide the avocado mixture between the four slices of bread, sprinkle some cayenne pepper on top before adding a couple of slices of smoked salmon. Finally, spoon over the dressing and then enjoy.
What will you be eating this Christmas? Let us know via our Facebook page.