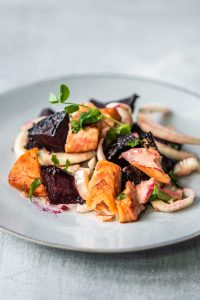 You've been having that obligatory post-festive purge since New Year's Day. But now, two weeks in, you're beginning to want to kick the New Year health kick into touch. If this describes you, then fear not. These two tasty smoked salmon salad recipes will stop you from falling off the wagon and prove that you can indulge yourself and remain healthy.
Coln Valley Hot Smoked Salmon with a lemon chilli dressing
As Coln Valley is renowned for its hot smoked salmon (or Kiln roasted smoked salmon, as we like to call it), we thought we'd open with a hot smoked salmon salad recipe.
Serves: 4
Ingredients
A whole side of Coln Valley's Kiln Roasted Smoked Salmon
250g new potatoes (halved)
100g asparagus tips
125g bag of mixed salad leaves (any of your choosing)
1 x small bunch of parsley (leaves picked and chopped)
1 x small bunch of mint (leaves picked and chopped)
70g radish, thinly sliced
2 x spring onions (sliced diagonally)
1 tablespoon of lemon juice
60ml olive oil
1 x teaspoon wholegrain mustard
1 x red chilli
Method
Boil up the potatoes for around 10 minutes or until tender. A minute or so before taking them off the boil add the asparagus tips to cook. Drain, leave to cool and then whisk together the lemon juice, olive oil, mustard and chilli in a separate bowl.
Grab a large bowl and mix together the potatoes, asparagus, salad, herbs and radishes. Add the majority of the dressing and mix further before laying out the contents on a large dish. With your hands, break up the kiln roasted smoked salmon into large chunks, covering the salad, and throw the spring onions over the top. Complete the dish by pouring over the remaining dressing – and enjoy.
Jamie's smoked salmon & avocado salad
Trust Jamie to save us from ourselves! This smoked salmon salad recipe sounds pretty standard, but as is always the case with Jamie Oliver, there's something a little but special about this variation of the dish.
Serves: 2
Ingredients
200g Coln Valley smoked salmon
½ ciabatta loaf (sliced into two)
1 x avocado (stoned and sliced)
½ lemon
¼ cucumber
1 handful of fresh herbs, leaves already picked
½ punnet of cress
1 x tablespoon mixed seeds
½ blood orange (cut into two)
Olive oil
Black pepper (freshly ground)
Method
Grab a griddle and heat. Whilst heating, place the sliced avocado in a bowl, squeeze over some lemon juice and then, using a peeler, peel the cucumber on top. Then add the herbs and cress.
Take another pan and gently toast the seeds. Once toasted, leave to cool.
In a small bowl, squeeze the juice from the blood orange and mix with a glug of olive oil. Season to taste.
Now that the griddle is piping hot, griddle both sides of the ciabatta until charred both sides. Once toasted, sprinkle the dressing over the top. Place each slice on a plate and then top with smoked salmon before drizzling over the remainder of the dressing. Add the salad mixture before topping with the toasted seeds.
Happy New Year from everyone at Coln Valley – and stay healthy!
For more smoked salmon recipe ideas, promotions and competitions visit our Facebook page.