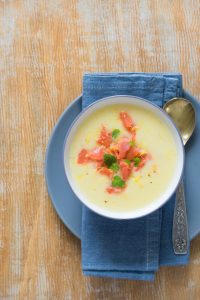 It's cold. It's wet. It's January.
These three things in themselves are enough to make you want to shut yourself away until at least February.
Although Coln Valley is very much a believer in the fact that it's the small things that count, so in that spirit we thought we'd offer you something that deals with all three: smoke salmon soup recipes.
"How's that, then?", we hear you ask.
Well, firstly, when it's cold and wet, people tend to seek solace in soup. Secondly, as it's January (and after all that Christmas indulgence), people often gravitate towards healthy eating in order to shift some of that Christmas excess. So, here are some tasty soup recipes that allow you to eat healthily – and enjoyably – whilst in a period of semi-hibernation.
Not only that but smoked salmon soup, for many, isn't a natural choice of soup, so here's our effort to bring it up to the top of the menu.
Smoked salmon, leek and potato soup
Yes, it's as simple as adding smoked salmon to an established and much-loved soup. However, the addition of the smoked salmon really does add another dimension to this UK favourite.
Serves 4
Ingredients
125g pack of Coln Valley Smoked Salmon, cut into small pieces
1 x medium knob of butter
1 x large leek, halved and thinly sliced
1 x bay leaf
500g potatoes
500ml stock (either vegetable or chicken)
50ml double cream
1 x handful of chives, chopped
Method
Heat the butter in a pan and add the bay leaf and the sliced leeks before cooking, on a low heat, until soft. Add the potatoes, making sure that they have a good coating of the butter.
Pour the stock and cream over the mixture and simmer until the potatoes are tender. Add the majority of the smoked salmon, saving a little to sprinkle on top, and stir through before serving up in bowls and adding the chives and the remaining salmon on top.
Hot smoked salmon chowder
This possibly isn't the leanest smoked salmon soup recipe you'll find, but it's arguably one of the most delicious.
Serves 5 – 6
Ingredients
2 x 160g packs of Coln Valley's Kiln Roasted Salmon
3 x large knobs of butter
1 x large onion (chopped)
5 x carrots, peeled and diced
3 x celery stalks, sliced
250ml white wine
6 potatoes, diced
1 x tablespoon of thyme
600ml stock (chicken or vegetable)
500ml milk
1 x tablespoon of flour
300ml cream
Method
Melt the butter over a medium heat before adding the carrots, celery and onion and cook until soft. Then add the wine for 30 seconds before adding the potatoes, thyme and half the stock. Gently boil until the potatoes are tender and then whisk the milk and flour in. Add another cup of broth and simmer for a further 10 minutes.
Add the hot smoked salmon and cream a minute or so before serving. Taste, season and enjoy.
Creamy salmon and cashew nut soup
Serves 4
Ingredients
250g pack of Coln Valley Smoked Salmon
200g cashew nuts (unsalted)
500g sweet potatoes, chopped into small cubes
100g tomato puree
800ml water
3 x cubes of chicken stock
1 x shallot, finely chopped
Method
Blend the cashew nuts and add the water to form a paste.
Add sweet potatoes, tomato puree, chicken stock cubes and cook in a pan for 20 minutes.
Just before serving, add the smoked salmon and stir for a few minutes before serving up in bowls. Garnish with the shallot.
Share your smoked salmon soup recipes with us via our Facebook page or @Coln_Valley on Twitter.