Sliced packs Long Cut 454g
Sliced packs Long Cut 454g
For us at Coln Valley, this is the perfect sized pack to send as a gift or share with guests. Naturally smoked in our traditional London brick kilns over oak and beech wood then delicately sliced and interleaved.
Laterally sliced (long cut).
£15.45
You May Also Like...
A winner of this years Guild of Fine Foods Great Taste Awards – this delicious dill sauce is the perfect accompaniment to our salmon products.
£2.25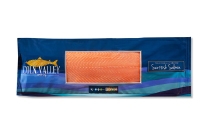 Delicately sliced smoked Scottish salmon layed back on skin. A full kilo will serve between 10-20 guests if being used as a starter or on a buffet.
Naturally smoked in our traditional brick kilns in the heart of the English Cotwolds over oak and beech wood.
Laterally sliced (long cut). Minimum weight 900g
£35.75

Our succulent and fresh smoked Scottish salmon that is slowly cured in rock salt, lightly smoked in brick kilns, sliced then topped with heat treated dill weed, plus a secret method technique to our preparations methods, makes this gravadlax outstanding by anyone's standards. Perfect entertaining size pack. Served with a sachet of our award winning Dill Sauce.
£21.95

A little taste of heaven! Our delicious sliced kiln roasted salmon - slowly cold smoked and then roasted to give a cooked consistency that retains a moist yet deliciously flaky texture. This is one of our most popular items. Very versatile and easy to serve – warm or cold, on its own, or with salad and pastas.


£5.50